Heritage Recipes From the Lutz Mountain Meeting House #1
Judging by the large gaps on the grocery store shelves where the flour, sugar and yeast used to be, people are doing a lot of baking! We thought it would be fun to look into our archives and share some recipes from the past. After all, Lutz Mountain Meeting House has a reputation for home cooking!
This week, Miriam McArdle, our Events & Kitchen Manager, has chosen a recipe for buckwheat pancakes from 'Recipes from Magnetic Hill Inn' (1962)
*Thanks to Ty Steeves this clarification, " It needs 4 Cups of Buttermilk to complete the Recipe Did you know that the Buckwheat Flour purchased for the Inn was purchased thru Lyons General Store — Shop Local"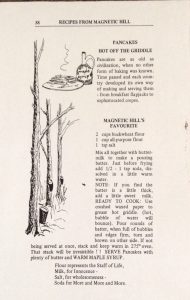 Enjoy!